Order Kebony Decking Online
$199 Shipping On Orders Over 2,000 Lineal Feet
Step 1: Choose Your Decking
Step 2: Choose Your Fastener
Step 3: Checkout!
Enter your shipping, billing, and credit card info then click "submit".
AFTER CHECKOUT
Within a couple of business days, an online sales representative will send you an invoice receipt with the exact board lengths you will be receiving and your freight details along with your product and delivery expectations. Once confirmed, we will release your order and you should receive it between 1-2 weeks. Our world-class customer service team will be available to answer any questions you may have before, during and after your order arrives.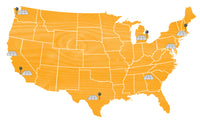 Now Shipping to the Contiguous USA
Enjoy safe & secure shipping to the 48 contiguous United States of America. Decking orders have a flat shipping rate of $999 and orders over 2,000 lineal feet ship for $199. Fastener orders have separate shipping charges.
3 Reasons to Buy Kebony Decking Online
1. Safe and secure delivery straight to your driveway.
No need to worry about how to get the product to your home or project, we handle the entire delivery for you.
Our in-house team will walk you through your order details and the freight process to make sure you are prepared for the day your decking arrives.
2. We partner with local lumberyards.
We believe in supporting local businesses, so when there is a stocking dealer in your area we will work with them to get the product to you. In fact, Kebony Direct is one of the only e-commerce programs in the construction product industry designed so local businesses get more sales, not less.
Have a favorite lumber yard you wished stocked Kebony? Tell them to email info@kebony.us.
3. Super simple and quick ordering process.
No need to filter through an overwhelming amount of species, colors, or product types. We designed the perfect board profile to remove the stress of choosing the right product. Our sales team has done all of the work and now delivering a deck straight to your door is as easy as 1, 2, 3!
Frequently Asked Questions
What is Kebony?
Kebony is a highly durable, sustainable wood with the aesthetics and performance of the best tropical hardwood. It requires minimal maintenance with low life cycle costs.
Is Kebony available in different colors?
Kebony wood is delivered in a dark brown color as a result of the Kebony technology. The shade of brown does vary slightly depending on the wood species. If left exposed to the elements, all Kebony woods will develop a silver patina over time.
Can I buy other Kebony products online?
We currently only sell our Kebony Deck Board and Fasteners through the Kebony Direct online store. But, you can still easily purchase any of our Kebony products by submitting a quote online.
Does Kebony come with a warranty?
Kebony offers a 30-year warranty against rot for above ground contact use.
Is Kebony Maintenance Free?
Kebony wood does not require any special maintenance beyond normal cleaning.
How do I clean my Kebony?
Water and a brush with only garden hose pressure. Do not use a pressure washer.
I have more Questions!
You can view all of our Frequent Asked Questions in our FAQs page.
Choosing a selection results in a full page refresh.
Press the space key then arrow keys to make a selection.